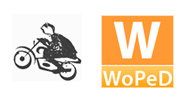 WoPeD Registration
Would you like to join the WoPeD Commnity?
By your registration you will be added to our newsletter mailing list. By ticking "Submit" below you declare your consent that we store the above data and make use of them to create anonymized community statistics and to send out the WoPeD
newsletter (maximum twice per year).
There will be no other processing or passing of this data to third parties.
New registration!